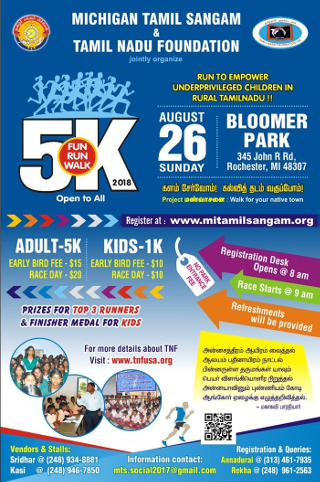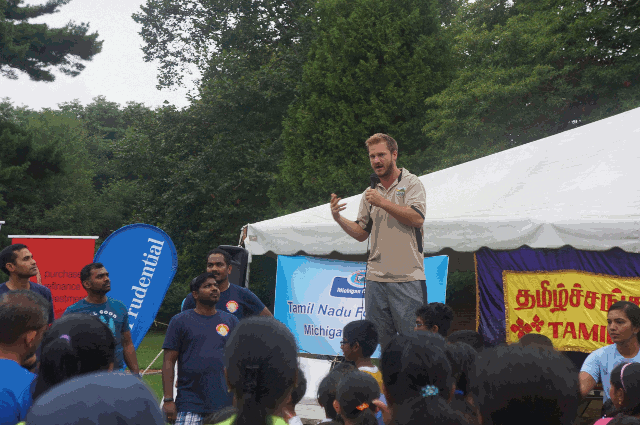 Second Annual Walkathon jointly organized with Tamil Sangam, Michigan. More than 200 donors participated and donated $7,000 towards Namakkal district corpus fund. This is in addition to the 20 families that co-sponsor ABC schools in Namakkal district by donating $450 each year.
Michigan Tamil Sangam and Tamil Nadu foundation (TNF) have jointly sponsored the educational initiative in Namakkal district to enrich underprivileged rural students attending government schools. This project was initiated in six schools in 2015. Four of the six schools are tribal schools run by the government of Tamil Nadu. A baseline test was conducted and 44% of the total student body was identified as significantly below their grade level. There are 612 students currently enrolled in a special class taught by specially hired teachers with emphasis on achieving grade level proficiency, and the expense per year is approx. $15,000. In continuation of the effort to support the process, there is a 5K walk/run scheduled on Sunday, August 26th, 2018. We had a similar 5K walk conducted last year, and there were 600+ participants who supported the event, and we expect similar or more this year as well. All proceeds will go towards educating underprivileged children in Tamil Nadu.

2014: December 14. Charity Event jointly organized with Tamil Sangam, Michigan. "Panchathandiram", comedy drama was staged by Dr. Venkatesan and group. From the funds raised, $ 40,083.23 was dedicated towards TNF-ABC project in Namakkal district. Some donors donated for the TNF Corpus Fund and for other TNF projects and the total funds raised were closer to $50,000.
Learn more about the Namakkal District Project.
For more details on 2014 Charity Event: Download the event flyer, read about the event in Tamil Online, or read more press clippings.
2012: December 31. New Year's Eve Charity Night. Raised $ 2,033 and donated it to feed abandoned special needs children at Anbalayam in Sirkali.
2010: May 21. Lakshman Sruthi light music program. Funds used to initiate the TNF-ABC project which focuses on educating the underprivileged in government schools in Tamil Nadu. Organized by Tamil Sangam, Michigan.
2006: May 27-28. TNF's 32nd National Convention, Dearborn, Michigan.
2004: Ragamala dance program. Raised $22,000 to build class rooms for orphan girls at Kasthurba Gandhi Kanya Gurukulam in Vedaraniam.
For more details on 2004 Ragamala Event: Download the event announcement and the follow-up program update.  The program was also reviewed in the press; here is the Review by Surendran and a review from youth, Aarthi Prasad.
2001: July 6 – 8. TNF Annual General Body Meeting, South Field, Michigan
1987: May. TNF's 12th General Body Meeting, Ypsilanti, Michigan
1978: July 1 – 3. TNF's 3rd Annual General Body Meeting, Ann Arbor, Michigan